Thanksgiving has past.  Now is the time for the Christmas season.  I don't know if anyone else thinks that they start the holidays too soon.  Back in October they were already displaying Christmas ornaments and such.  They just about passed over Thanksgiving.  What's up with that!
I hope you all enjoyed the stuffing video.  I'm going to have to make it more often.  I forget how good it is.  My next video will be stuffed artichokes.  That's another treat that's usually only made on the holidays.  I'm told that a lot of people don't make them because they don't know how.  Well it's very simple.  You'll see.
On Christmas Eve I usually have the entire family over, and not just my immediate family (kids and grandkids), but nieces, cousins, etc.  There are usually 30 people or so and I make the Feast of the Seven Fishes that is customarily made on the Eve…linguine with crab sauce,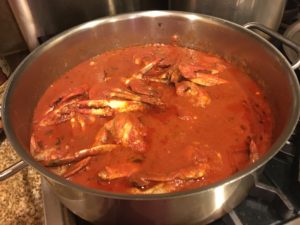 clams oreganato, seafood salad, lobster tails, fried calamari, shrimp scampi, to name a few.  Sometimes I even make baccala because it brings back so many memories.
We also had a huge family dinner back then when I was a kid.  My aunts, uncles, grandma, grandpa and all the cousins.  My mother was one of 14 children so you can imagine how many there were.   My mother used to make me eat a bite of eel on Christmas Eve.  She said it was "good luck."  I DID NOT LIKE EEL!! But I took a bite to make her happy.  They all loved baccala.  I guess it was because they were brought up on it, my grandfather being a fisherman and all.  The younger generation doesn't really go for it.
As a matter of fact, my sons do not like any kind of fish or seafood.  My mother and particularly my grandfather would not like that at all.  I don't really know why.  They would eat shrimp and fried flounder when they were younger. I remember my mother telling me that when I was three years old they took me to Sheepshead Bay for seafood.  When I tried a clam I spit it out.  My mother was so upset.  She got over it.  After I got a little older, I ate 99% of all fish and seafood.  My mother really didn't have anything to worry about.  On Christmas Eve when I make the Feast of the Seven Fishes for everyone, I have to make chicken parmigiana with spaghetti for my sons.
What's most important during this very special time of the year is La Famiglia…the family.  Love one another, treat one another with respect, because you never know when you will see one another for the last time.  Everything else is secondary.