My family and I look forward to family vacations during the summer.  For me it's the memories I cherish and share with my children and grandchildren.  If it was up to me and had the money, we would do it several times a year. For the past few years, we've gone to Riviera Maya in Mexico a couple of times, Costa Rica, Punta Cana, Myrtle Beach, SC, Ocean City, Maryland, Virginia Beach and this year it will be Disneyworld.  Not looking forward to all that walking in the heat, but the kids will certainly enjoy it.  
 This photo was taken in Myrtle Beach.
We're already planning our vacation for 2018.  My daughter Nicki started looking it up a couple of weeks ago and we haven't even gone on this year's vacation.  She wants to go back to Mexico.  There's a lovely resort there with a swim up pool right beneath your terrace.
We're shooting for Italy in 2019, but I can't even think about it.  I love Italy.  When I went for the first time, it felt so familiar…like I was home.  I sensed my grandparents and mother were there with me either in my mind or spiritually.  My mother always wanted to go to Italy, but she never made it.  I swore I wouldn't let that happen to me.  I couldn't find anyone to go with at the time, so I went on a guided tour by myself.  I had a wonderful time with lovely memories…the Colosseum, the Vatican, Leaning Tower of Pisa, riding in a gondola in Venice, but the best for me was the Isle of Capri.  I fell in love with Capri.  My daughter Nicki got the opportunity to go to Italy as well, but not the rest of the family.
When I go back to Italy with my family, we can  all visit Capri and my family will fall in love with it too.  It was one of "the" most important sights I wanted to see after seeing Clark Gable and Sophia Loren swim in it in "It Started In Naples."  I'm claustrophobic so when we got to the rowboats to go into that small little opening I was so scared I didn't want to go in.  You had to lay down in the boat and pull the chain to launch you inside, but the people on the tour with me said "You don't want to come all this way to Capri and not go into the Grotto!"  So I laid down and closed my eyes.  It was magnificent!!  I'm so glad I did it.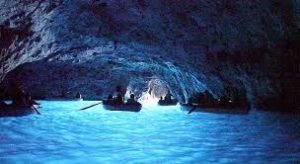 Well we're off to Disneyworld in the next couple of weeks.  Will give you an update.
SUMMER, VACATIONS and FAMILY